Columbus School's Clinical Staff are here to support you and your child! As a team of school social workers and school psychologists, we support children's social-emotional well-being so they can have success in school & beyond! Please do not hesitate to reach out to one of us if you have any questions or concerns about your child!
¡El Equipo Clínico de la Escuela Columbus está aquí para apoyarlo a usted y a su hijo(a)! Como equipo de trabajadoras sociales y psicólogas escolares, apoyamos el bienestar social y emocional de los niños para que tengan éxito en la escuela y en la vida. ¡No dude en comunicarse con una de nosotras si tiene alguna pregunta o inquietud sobre su hijo(a)!
Check out our resource packet for additional resources on different topics and mental health clinics in the community!
¡Consulte nuestro paquete de recursos para obtener recursos adicionales sobre diferentes temas y clínicas de salud mental en la comunidad!
Upcoming Fall Meeting Dates Include:
Oct 14th--Coffee with Clinicians
Oct 28th--Harbor Lights Presentation
Nov 18th--Columbus Cares Presentation
Dec 9th--Harbor Lights Presentation
Dec 23rd--Coffee with Clinicians
Las fechas de las próximas reuniones de otoño incluyen:
Oct. 14th --Café con clinicas
Oct. 28th--Presentacion con Harbor Lights
Nov. 18th--Presentacion de Columbus Cares
Dec. 9th--Presentacion con Harbor Lights
Dec 23rd--Café con clinicas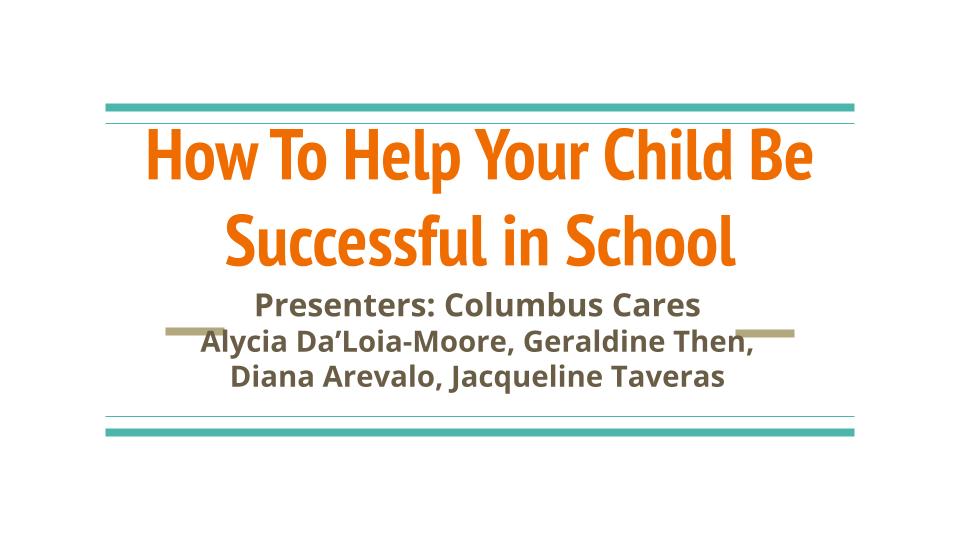 Please see the presentation from 9/23/22 for information on how to help your child be successful in school!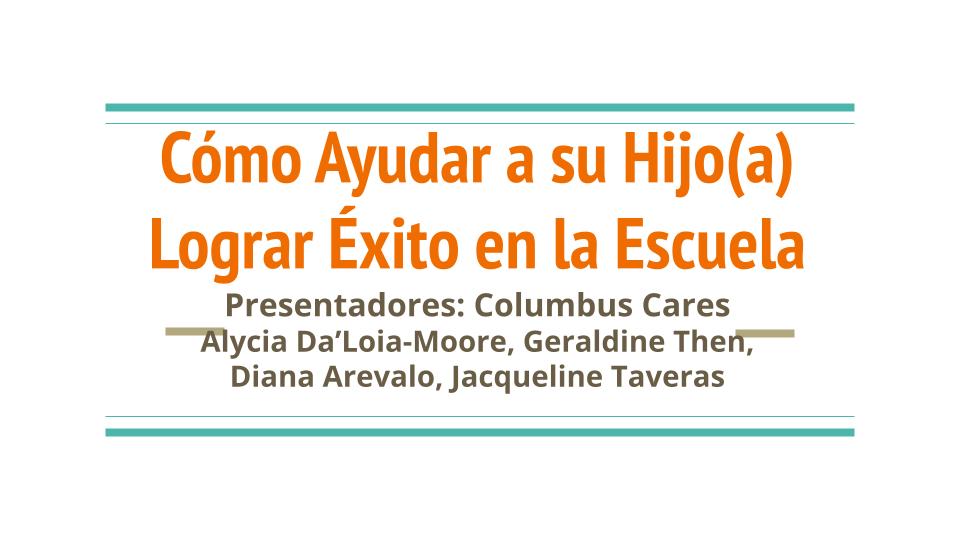 ¡Consulte la presentación del 9/23/22 para obtener información sobre cómo ayudar a su hijo a tener éxito en la escuela!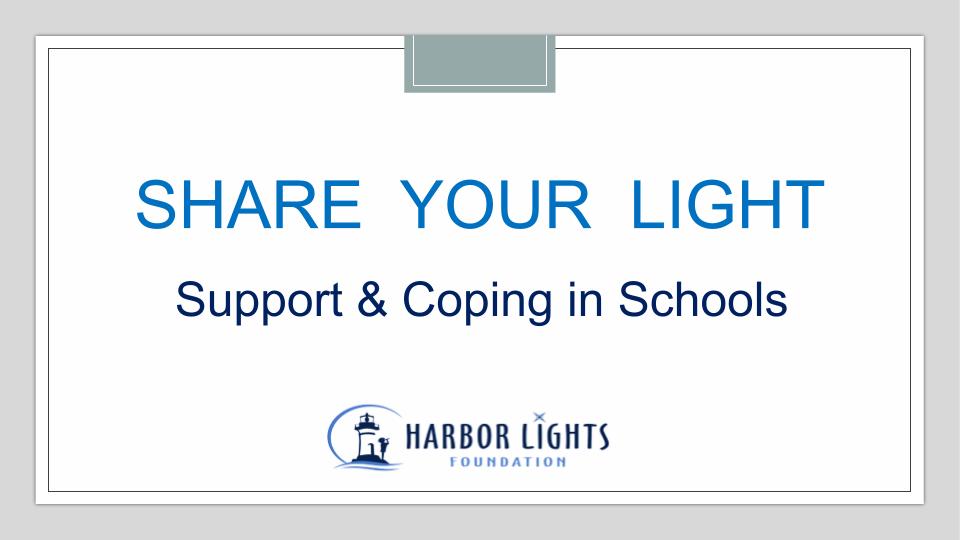 Please see the handout from our presentation on 12/1/21 about coping with loss and grief. Click here! If you or your child are interested in grief or bereavement resources, please reach out to a clinician at the school! We will help direct you to the appropriate resources and supports.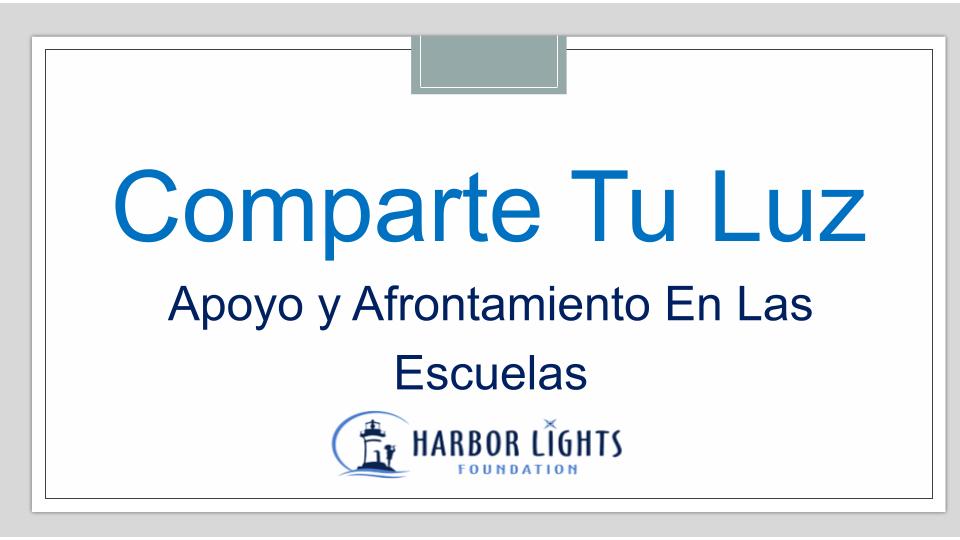 Consulte el folleto de nuestra presentación el 12/1/21 sobre cómo afrontar la pérdida y el dolor. Haga clic aqui! Si usted o su hijo están interesados en recursos para el duelo o el duelo, ¡comuníquese con un médico de la escuela! Le ayudaremos a encontrar los recursos y apoyos adecuados.
Please see the handout from our presentation on 2/16 regarding effective communication with children. The end of the presentation has great resources and activities to support healthy and effective communication! CLICK HERE!
Consulte el folleto de nuestra presentación del 16 de febrero sobre la comunicación efectiva con los niños. ¡El final de la presentación tiene excelentes recursos y actividades para apoyar una comunicación saludable y efectiva! HAGA CLIC AQUI!
Support for Talking with Children about Violence/Apoyo para Hablar con los Niños sobre la Violencia
Families and school personnel play a critical role in helping to reestablish a sense of normalcy and security for children after an act of violence occurs. Follow these key reminders and visit www.nasponline.org/children-and-violence to learn more.
Las familias y el personal escolar son cruciales para ayudar a restablecer un sentido de normalidad y seguridad para los niños después de que ocurre un acto de violencia. Siga estos recordatorios clave y visite www.nasponline.org/children-and-violence para obtener más información.
NY Project Hope Information/NY Project Hope Informacion
NY Project Hope is a Crisis Counseling Program that provides support, outreach, and education to assist individuals and communities coping with COVID-19. It is a strengths-based program offering support that promotes resilience, empowerment, and recovery. Support includes an emotional support helpline, information about stress management, coping skills, and links to much-needed resources. All New Yorkers can call the NY Project Hope Helpline or visit the program's website where they can learn about resources including agencies in their communities that are providing crisis counseling services. The program is free, confidential, and anonymous.
NY Project Hope es un programa de asesoramiento en caso de crisis que brinda apoyo, divulgación y educación para ayudar a las personas y las comunidades a enfrentar el COVID-19. Es un programa basado en fortalezas que ofrece apoyo que promueve la resiliencia, el empoderamiento y la recuperación. El apoyo incluye una línea de ayuda de apoyo emocional, información sobre el manejo del estrés, habilidades de afrontamiento y enlaces a recursos muy necesarios. Todos los neoyorquinos pueden llamar a la línea de ayuda NY Project Hope o visitar el sitio web del programa, donde pueden obtener información sobre los recursos, incluidas las agencias en sus comunidades que brindan servicios de asesoramiento en caso de crisis. El programa es gratuito, confidencial y anónimo.